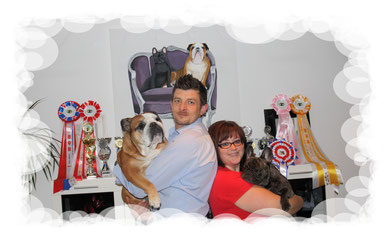 We are Jessica and Marius and our bulldogs Bailey and Rose. We live near Dortmund, in a small city with beautiful forests and much of green, the ideal place for our dogs and our common walks.
Since our first bulldog came to us early 2009 we are absolutly delighted by their special character and we knew quickly that our family should grow!
A long time followed which we used to gather information and to search for the right new family member. Finally the time has come and early 2012 our first French Bulldog came to us - since that day everything spins even more about our beloved bulldogs.
Crystal Rose is a little clown and sometimes also a naughty little rascal, but absolutly attached, loyal and loveable - with this characteristics she fills our live with so much luck and joy! With her our love for this special breed is growing every day a bit more...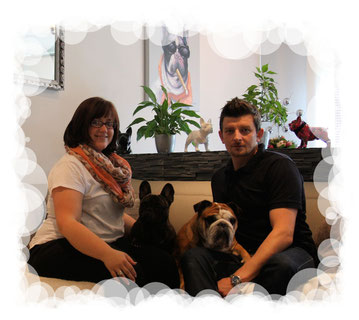 We are member of the IKFB e.V./ VDH/FCI, our dogs live with us as full member of our family and they are with us allways and everywhere.
Out of love to our bulldogs and due to our big passion of showing this website was built.
We went through several seminars and further education of breeding and since middle of 2014 our kennel "JESSMAR'S" is founded under IKFB/VDH/FCI.
We hope to raise a litter from time to time and to share a piece of our love and passion with other lovers of the French Bulldogs.
We want to wish you much fun by viewing our website - if there are any questions or suggestions feel free to contact us.